What is National Fresh Fruits and Vegetables Month?
We are already into the month of June, and that calls for the celebration of National Fresh Fruits and Vegetables Month! This unofficial holiday was created to encourage consumption of fresh, local produce wherever possible – and what's more local than growing produce right in your own backyard?
If you are new to gardening, it may seem daunting to try to grow your own produce. But worry not, Weed Man has got you covered with a few tips for growing fruits and vegetables that will leave you harvesting your own produce in no time.
Easy-to-Grow Fruits
Let's face it, many of us will choose fruit over a vegetable any day. But which fruits are easiest to grow?
1. Blackberries and Raspberries
This ever-popular snack can be grown in a traditional garden-like setting, or even in a pot on your balcony.
There are a few things you will want to consider when choosing berries to plant in your backyard. First, how much room do you have to grow the berries? More compact berry varieties grow to about 3 – 4 feet tall, but some kinds will grow to 7 – 8 feet!
You will also want to consider the climate that you are growing your berries in. Some berries can withstand the cold while others are better suited for climates that are warmer year-round.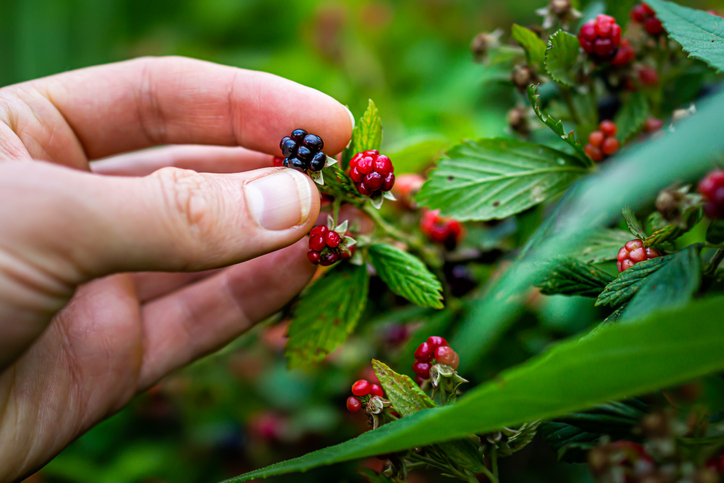 2. Gooseberries
If you've never tried a cape gooseberry, what better way to introduce yourself than to grow your own? With a circular 'head' and short 'beak,' these berries really do resemble geese, and most importantly, they taste great!
Gooseberries grow best in the sun, in fields, or with other crops. While gooseberries can grow nearly anywhere, they grow best in gravel or sand, as well as in low-fertility soils. They are a very low-maintenance plant, and will do most of the work themselves once planted. You'll be harvesting your own gooseberries in no time!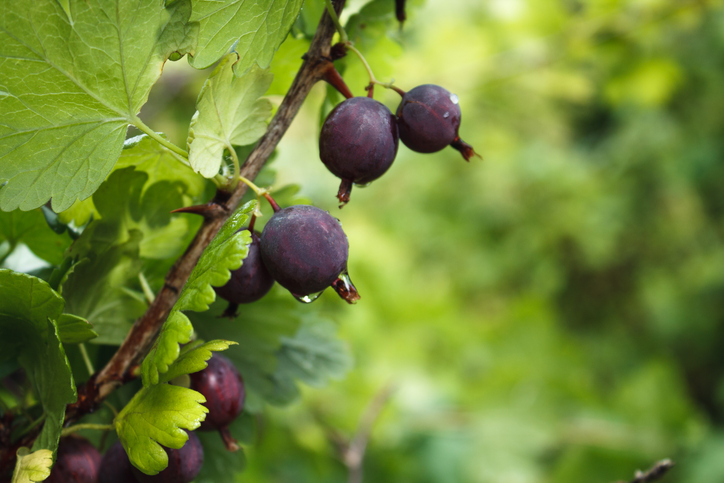 3. Tomatoes
This one is a bit tricky! While many of us might think of tomatoes as vegetables, they are actually fruits.
Tomatoes are excellent plants to experiment with in your garden as they come in many varieties. They are relatively low maintenance, but do require lots of sunlight and a nutrient-rich soil with good drainage. With regular watering, you will have your own vines of tomatoes to harvest in no time.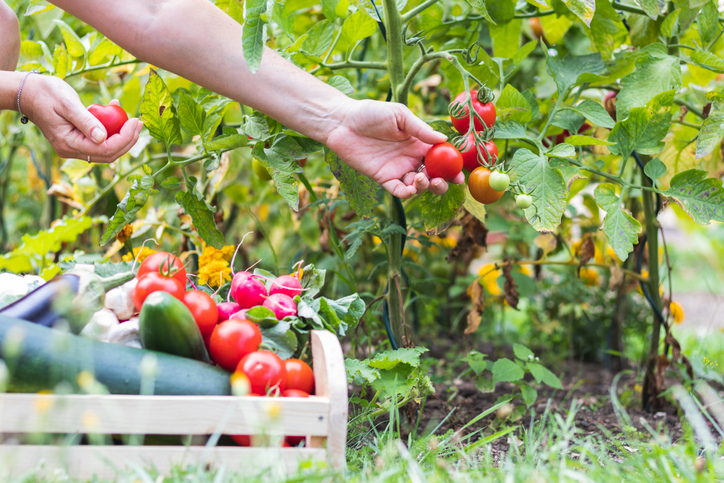 Easy-to-Grow Vegetables
Some of us love them, some of us hate them, but there's no way around it – it's still important to eat your vegetables!
1. Cucumbers
Cucumbers are a relatively easy plant to grow in your backyard – and hey, they're made up of mostly water, so you're filling two nutritional needs at once.
While you can start the process of seeding indoors, cucumbers can only be planted and grown during warmer seasons. This satisfies one of their main needs, which is heat. The second thing that is essential to grow cucumbers is an abundance of water. Be sure that you plant your cucumbers in an easy-to-access spot so that you can consistently and effortlessly water them.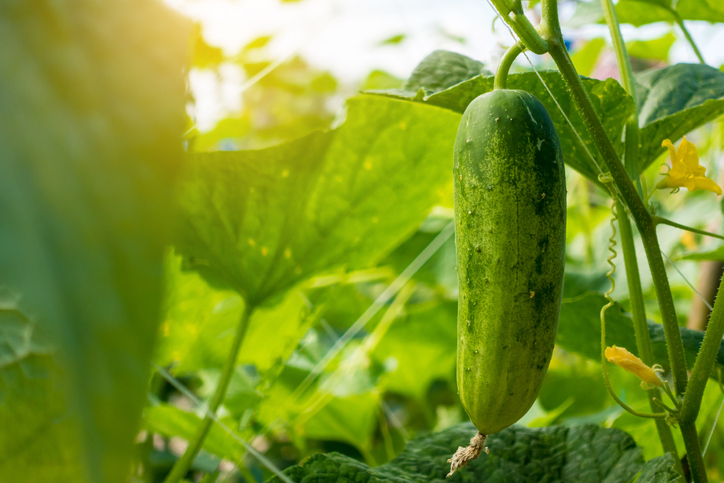 2. Spinach
Spinach, another important green, is also considered a low-maintenance vegetable to have in your garden.
Much like growing lettuce, spinach seeds must be planted in well-drained soil along with compost. Spinach plants aren't too picky about sunlight, though – they can thrive in full sun or in the shade. Moreover, spinach plants are very weather-resistant. While you can grow spinach in the summer, they also survive in cold weather – as low as 15 degrees Fahrenheit!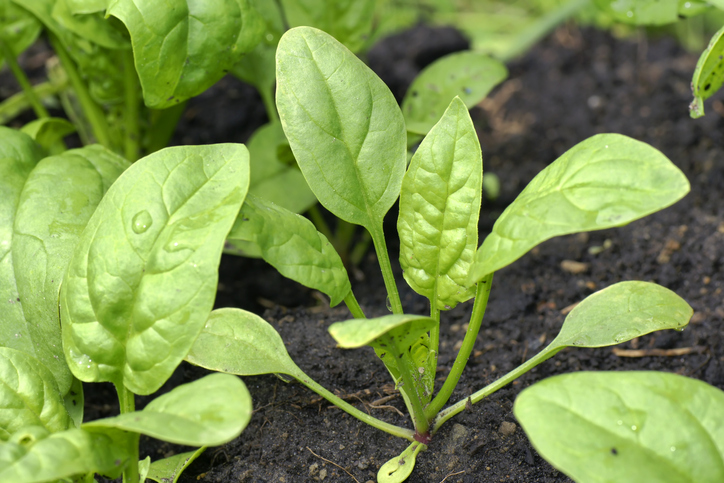 3. Garlic

While we may tend to think of garlic as being an herb or spice, it is botanically a vegetable. Crushed, peeled, or diced, there are many ways to consume garlic – but first you'll have to grow it!
What comes as a surprise to many is that garlic is grown by planting the already-grown cloves. All you'll need to do to grow your own garlic is to plant some that has already been grown! Push each clove into the soil, tips facing upward, about 2 inches or 5 centimetres deep, and then cover with mulch. While garlic can grow in a range of climates, it is generally best to plant it mid-fall or in early spring.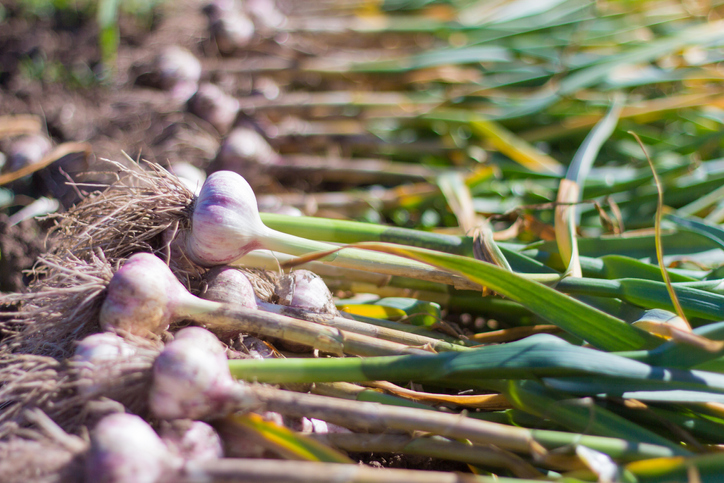 And there you have it: the beginnings of your own backyard garden! What will you be growing to celebrate National Fresh Fruits and Vegetables Month this June?