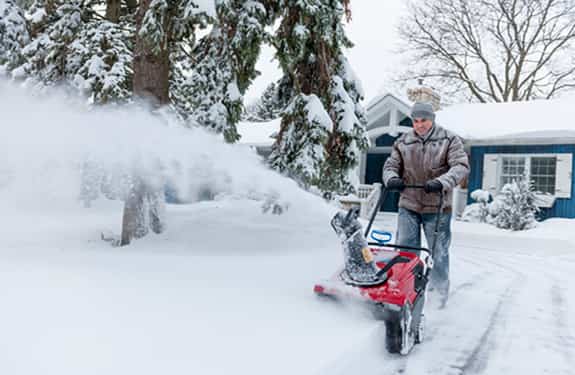 With one of the coldest, snowiest winters on record, it's no wonder that homeowners everywhere are exhausted. If non-stop shoveling and salt-stained driveways are keeping you up at night, you're not alone. Unfortunately, with spring still several weeks away, we're not out of the woods (or snow!) quite yet.

Although tiresome, removing snow from your property comes with the territory of being a homeowner. It is an essential practice for keeping your driveway and walkways safe and liveable. Unfortunately, many snow removal practices are tough on turf. It can be incredibly disheartening to watch the snow melt only to be left with a bare, damaged lawn. Not to worry – Weed Man has put together a few quick and easy tips for keeping your lawn safe this winter.      

Invest in a Snow Blower
Although a snow blower can be expensive and is not always a viable option, it could be a worthwhile investment if you live in a northern climate that experiences harsh winters. Snow blowers are GREAT for your lawn, as nothing actually touches the border or surface of your turf during snow removal. As a bonus, snow blowers speed up the process of clearing your driveways and walkways and basically do the labor for you – a win/win/win in our books. Tip: Purchasing one off-season can save you mega bucks. 

Buy a Better Shovel
Shoveling is hard enough. Using a poorly constructed shovel will only make things harder. Flimsy scoops, uncomfortable handles, heavy equipment, and little to no grip are just a few of the common complaints home stores hear around this time of year. Having poor equipment will impact your ability to remove snow quickly and safely without cutting bordering grass and soil. 

Stake Out Property Lines
When your property is coated with a thick layer of snow, it's easy to lose sight of where your driveway ends and your lawn begins. Use colorful stakes to mark areas of your property. This will help protect sensitive areas of turf from shovel, tire, and snow plow damage. 

Hire a Professional
Snow plowing companies are usually very well-versed in keeping away from lawns and gardens, taking the worry of damaging underlying grass plants out of the equation. Although hiring a pro comes at an extra cost, it can be a nice reprieve from months of planning and DIY labor.  

Brought to you by Weed Man Lawn Care: we care for your lawn.