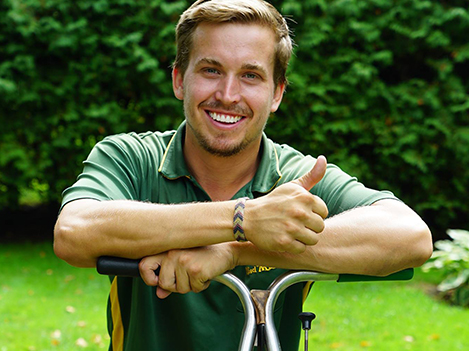 Fall fertilization season is upon us! Don't skip your lawn's final feeding of the year. Supplying your lawn with the nutrients it requires is an essential part of a full-circle lawn care plan, especially if you desire a lush, green lawn come springtime. And after a long winter spent indoors, we have no doubt you'll be dreaming of a barefoot-worthy lawn once the warmer-weather hits.

Weed Man wants to ensure that you have the knowledge and tools to feed your lawn as thoroughly and as healthily as possible before winter arrives. Read on below for an inside look at our exclusive slow-release fertilizer blend, and why it is the best option for homeowners.


Why Fertilize?

A well-fertilized lawn has countless benefits. Not only is it healthier and greener, it is also far better at preventing weed infestation, disease and drought. As an added bonus, healthy lawns give back to the environment by producing oxygen, cooling the air during hot weather, and trapping and absorbing urban dust and pollution.

Weed Man's Slow-Release Granular Fertilizer

With your lawn's nutrition in mind, Weed Man recommends our 65 percent slow-release, granular fertilizer. Our premium mixture feeds your lawn gradually – only when it needs it. This allows grass plants to feed over an extended period of up to 8 weeks, rather than feast all at once.

Our exclusive, high-quality blend is made from naturally-occurring ingredients, including nitrogen and potassium. Nitrogen aids in plant growth and helps keep grass looking green and healthy, while potassium increases winter hardiness and resistance to disease and drought – a must-have if your lawn will be forced to endure frigid winds, ice and snow over the colder months ahead.

Contact Your Local Weed Man

Weed Man's licensed, trained technicians apply the right amount of fertilizer at the right time of the season, taking all of the guesswork out of your lawn care routine. Don't risk burning your lawn or leaving it vulnerable to harmful fungal diseases by taking on a do-it-yourself project.

Your lawn needs you (and our fertilizer) now more than ever! Contact your local Weed Man professional or visit the online Customer Portal today to schedule a service call. 


Brought to you by Weed Man Lawn Care: we care for your lawn