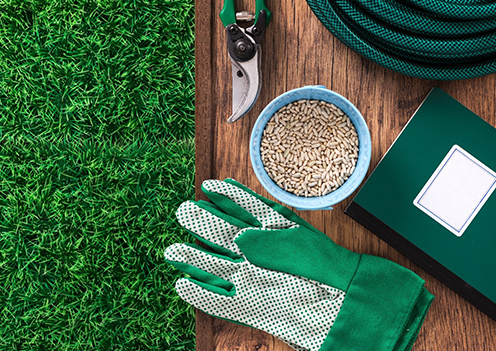 As the weather improves and temperatures continue to rise, you'll soon start feeling the itch to get outside and enjoy your outdoor space. You may be ready to trade in the couch for a soft patch of turf, but is your lawn? In all likelihood, your grass is going to need some major TLC to help it bounce back after months of snow and other seasonal stressors.
If you're ready to put your best foot forward and start Spring off on a high note, then simply follow these helpful tips from Weed Man Lawn Care:


Question: Spring is almost here. When should I start watering my lawn?
Answer: The short answer? Wait until your lawn really needs it.  Many homeowners struggle with when to start their spring lawn care watering regimens.  As the days become longer and outside temperatures increase, your lawn will begin waking up from its winter dormancy. Monitor your grass carefully – as soon as night frost subsides (usually in April, although this is only a general guideline), your lawn will likely begin drying out. While you may be tempted to dust off your garden hose and give your lawn its first soak of the season, don't be too quick to the punch.  Assess rainfall levels in your area, keeping in mind that your grass only needs about 1-1.5 inches of water per week to remain in peak health. If your lawn has seen adequate precipitation, then you will not need to start watering until spring rains subside.
Question: When should I think about fertilizing my lawn?
Answer: When it comes to fertilizing your lawn, timing is half the battle. With a standard Weed Man program, we fertilize the lawn multiple times per year (always at the right time and with the right amount of product!) for best results. However, we do not treat lawns with fertilizer in the bitter cold of winter, as this is not an effective method of treatment or the best use of our resources. This is because most lawns remain dormant until soil temperatures warm up. Prior to this, the grass plants are generally not ready to absorb the nitrogen and other nutrients readily available in fertilizer products. Additionally, any melting snow and/or heavy rains would cause the majority of the product to become diluted or flushed out. Once lawns start to green up, however, our technicians are out there right away to give your lawn the boost it needs to start the growing season off with a bang. To ensure you are on our schedule in the spring and that your lawn is treated at the optimal time, book your lawn care program early by calling us.
Question: How high should I be mowing my grass?
Answer: Lawn mowing isn't a "one size fits all" cultural practice. In fact, each grass type functions best within a certain cutting height range. Staying within these guidelines can help you maintain a weed resistant and drought tolerant lawn. Cutting the lawn too short, on the other hand, can result in unsightly turf disease, weed infestation, and extreme thinning of the lawn.
Do you know the proper mowing height for your grass type? If not, check out Weed Man's handy mowing height chart below!
Mowing Height Chart Based on Grass Type
Question: How can I control weeds?
Answer: While it is inevitable that your spring lawn will experience some weed growth, using weed control applications to keep pesky weeds at bay will keep your lawn lush, green and healthy. Contact your local Weed Man for more information about our weed control programs.
Question: What are some lawn care concerns that I should be aware of this season?
Answer: Leaf blight is a fungal disease that affects Kentucky bluegrass, fine fescue, and creeping Bentgrass during warm, wet, humid weather of the late spring or early summer. Many homeowners mistake this lawn disease for chemical burn because it bleaches the lawn in large patches, leaving grass looking dead and discolored. However, if you received a weed control treatment this season from your local Weed Man professional, rest assured that these straw-colored patches are not the result of our products, but rather the hot, humid weather conditions common at this time of year.
Healthy turf begins and ends with good lawn care habits. Ask your local Weed Man for tips specific to your lawn.
Brought to you by Weed Man Lawn Care: we care for your lawn.