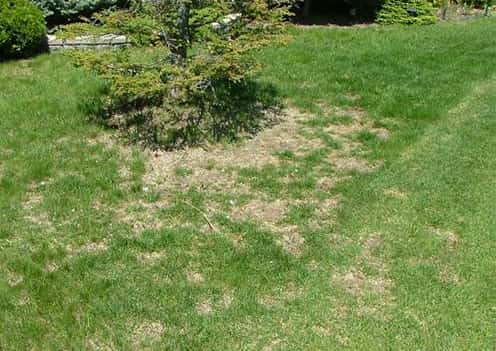 If your grass is looking rather brown in spite of frequent watering and proper mowing, chinch bugs may be the root cause of your turf grass worries.
The dreaded chinch bug is small in size, measuring in at only about 1/8 of an inch, but can cause severe damage to a home lawn. Often, the pesky insects become a problem before they are even spotted by homeowners, leaving grass frail and brown, similar to drought symptoms. Chinch bugs are oval-shaped with a round underside and flat top, black in color and white, triangular-shaped wings. They spend the winter hiding in greenery, such as shrubs and hedges, as they seek shelter from the cold temperatures. In late spring, they venture to the lawn and that's when mating begins. Adults typically emerge in the spring months and deposit new eggs in the soil. One couple can lay around 250 eggs and in early summer, those eggs hatch, nymphs begin feeding on your grass and therefore cause severe damage.
There are various types of chinch bugs, making them a large threat to plants across the country. Living and feeding on lawns across North America, hairy chinch bugs are typically found in the north-eastern United States, while common chinch bugs are found in the north central range. Southern chinch bugs are found from southern North Carolina to the Florida Keys, west to central Oklahoma, California and Hawaii. Almost all grass species can be a potential host for chinch bugs to feed on.
Your local Weed Man professional can help prevent or fix chinch bug damage. Our technicians know what to look for, allowing us to catch them early before major damage occurs. The best defense against these pesky little insects is a healthy lawn. The thicker your turf, the more likely it will recover from chinch bugs or other surface-feeding insects.
Brought to you by Weed Man: We care for your lawn