It's getting close to that time of year where drought seems to inevitably affect our lawns. A drought occurs when there is a prolonged period of time that an area has lower than average rainfall. When this occurs, the lawn becomes stressed, and may become very dry and turn a yellow or brown colour. 
A period of drought is not the end-all-be-all for your lawn, however! Though it may not look like it, your lawn is still alive and growing during a drought. It will just need a little extra care in order to be brought back to its lush, green state.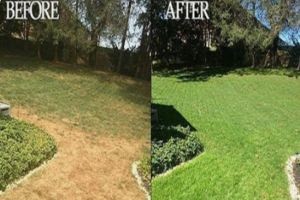 Common Issues on Drought-Damaged Lawns

One of the issues that can occur with drought-damaged lawns is an influx of weed grasses and broadleaf weeds. Crabgrass also poses a major problem, as it does very well when drought conditions are shutting down northern grasses. Crabgrass loves the heat and has similar characteristics to southern type grasses, which allow it to grow significantly better in the summer. The best solution is to try and keep your lawn as thick and healthy as possible, and be sure not to mow shorter than 3 inches high. If you do end up with crabgrass, removing it by hand is the only option to reduce the spread of more seed throughout your property. 

Repairing Drought-Damaged Lawns
The most effective strategy to prevent drought damage is following proper watering practices. Homeowners are generally advised to water the lawn in the morning, as the sun will evaporate any waste water. However, if your lawn is exhibiting signs of of drought - such as a dark, silvery tinge on the grass blades - you should water the lawn immediately, regardless of the time of day. Thorough, infrequent watering is also recommended as it promotes the growth of a deep and healthy root system that is better equipped to survive periods of drought. For a more extensive list of watering tips, we suggest reading our dedicated blog post, which you can access here: Watering Instructions and Information.
For those lawns that do not recover from drought damage, it will be extremely important that you overseed the lawn to get the lawn filled in again. Weed Man offers aeration and overseeding, and these services are a must on lawns that are not recovering from the drought. Watering the seed in after the application is extremely important!

Thank You for Your Continued Partnership 

Warmer months can be tough agronomically! We appreciate your patience as we work to improve the condition of your lawn. We have you covered with respect to proper fertility and weed control. Should you require any extra applications for weeds, please let us know as these are always free and unlimited.
We cannot express how much we appreciate your business and the opportunity to help you with your lawn care needs and look forward to helping you maintain the health of your lawn!