Are you struggling to rid your lawn of crabgrass? Many homeowners will try just about anything (including hand digging!) to fight back against this troublesome weed grass…and with good reason! If left untreated, crabgrass can turn a homeowner's thick, lush, green lawn into a thin, weak, patchy one.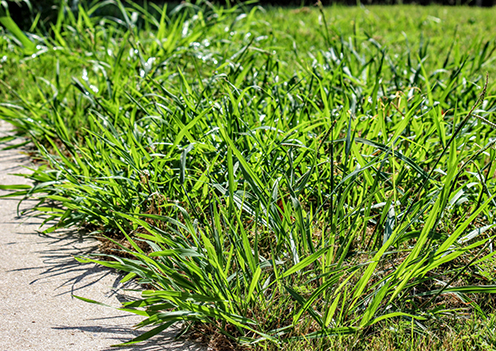 The first step toward crabgrass management is identification, especially since there are so many varieties of weedy grasses affecting lawns.
Identification Tips
Weed Man can help identify crabgrass infestations and recommend a treatment and maintenance program for your yard.
Maintenance Tips

Crabgrass control combines reducing crabgrass populations with corn gluten and strengthening the overall health of your lawn. An application of crabgrass control material in the spring – before crabgrass seeds germinate –is essential, as there is currently no post-emergent treatment available on the market. If you have seen crabgrass on your lawn this summer, then be sure to book a pre-emergent control program with Weed Man for early next growing season. Crabgrass will not respond to broadleaf weed control products.

Keep in mind that ongoing maintenance is also an important step in eliminating crabgrass. A strong, healthy, properly fertilized, mowed and watered lawn provides the best defense against crabgrass. Thick, lush lawns allow few open sites for crabgrass to mature. One of the easiest maintenance steps is to remember not to mow your lawn too low. Taller grass will shade the soil and make it less hospitable to weeds. Most grasses do well at a mowing height of 5-7.5 cm.
Contact Your Local Weed Man Professionals

For tips on how to manage crabgrass and achieve a lush, weed-free lawn, contact your local Weed Man professionals today!