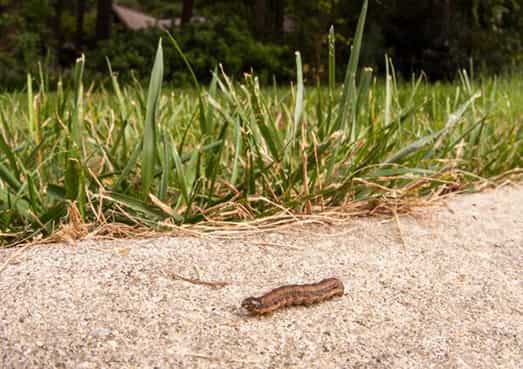 The struggle between humans and insects began with the dawn of time - and will continue as long as humans and insects want the same thing (for instance, your lawn!) at the same time.

In North America, insects are so destructive that they wipe out crops that represent the work of over 1 million people in a single year. So insect control is essential if we are to maintain our current standard of living.

More than 850,000 insects have been identified. Despite their short life span, insects multiply rapidly. Normally, nature creates a balance between insects, natural predators and food supply. But if something - like a change in the weather pattern happens to change that balance, then insect populations increase and may cause extensive damage. Insect damage will be particularly severe in thin, dry, or weed-infested lawns.
An Essential Step: Diagnosis
Insect control begins once the early signs of injury or significant numbers of insects are observed. Since some insects can only be controlled at certain times during their life cycles, it is essential to know:

1. the insect responsible
2. the life cycle of that insect 
3. the level of infestation

Weed Man employees are carefully trained to diagnose insect damage in your region of the country.

Your health and safety come first
Weed Man uses only products for use on home lawns. They are most safely applied in the capable hands of a trained professional like Weed Man.

Studies done by the University of Guelph show that insect control products tend to stay in the thatch layer of the lawn, where harmful turf insects feed. After 24 hours, less than .3% of the product can be dislodged from the lawn. According to the University, there is little movement of insect control products into the root and soil zones.

What you can do
To increase the effectiveness of the insect control product, keep children and pets off the lawn for 24-48 hours after an application of Weed Man insect control product. (Your local Weed Man will tell you the recommended guidelines in your state.) Insects live at different levels in the soil, so it's important to follow watering instructions after an insect control application.

Call anytime
If you think you have an insect problem, call your local Weed Man for a free consultation. Weed Man will diagnose the problem and set up the proper program.

(1) Sears, M.K.; et al, Pesticide Science 1987, 20, 223-231